The Society of Trust and Estate Practitioners (STEP) is a global professional body, comprising lawyers, accountants, trustees and other practitioners that help families plan for their futures. STEP has more than 21,000 members in 96 countries.
Annually STEP holds the STEP Asia Conference, alternating between Singapore and Hong Kong. This year's event was held at the Marina Bay Sands Hotel and Convention Centre in Singapore.
The Conference attracts legal, trust, tax and finance professionals from around the world. This year's Conference was attended by over 400 delegates from 18 countries, including the UK, USA, Singapore, New Zealand and the Cook Islands.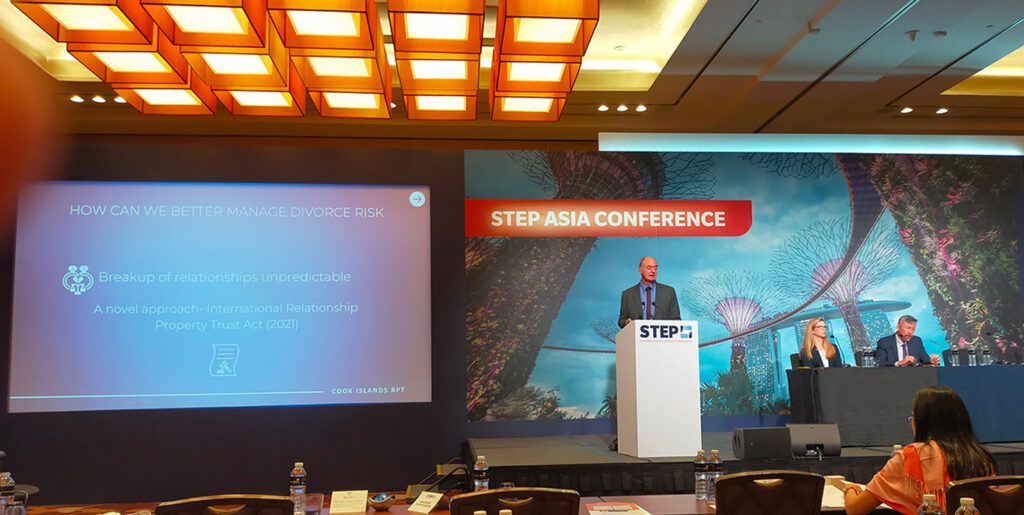 "Cook Islands Finance (CIF) has been a sponsor of the STEP Asia Conference for a number of years and was again a proud sponsor of this year's event," stated Cook Islands Finance Interim CEO Alan Taylor.
"The profile obtained and professional relationships developed from attending and sponsoring the STEP Asia Conference is of great value to the Cook Islands financial industry and in particular its trust sector. The networking opportunities are enormous."
The theme of this year's Conference was, "The future of estate planning: Reshaping strategies for a disrupted world". COVID 19 has impacted the lives of everyone and the rise of crypto assets and the blockchain has required practitioners to reassess the planning needs of families and how they advise on and meet those needs. The presentation topics therefore ranged from crypto assets and their inherent risks to the role of trusts and trustees in the modern world. The new generation of wealth creators will hold more and more of their wealth in digital assets and trustees must adapt accordingly.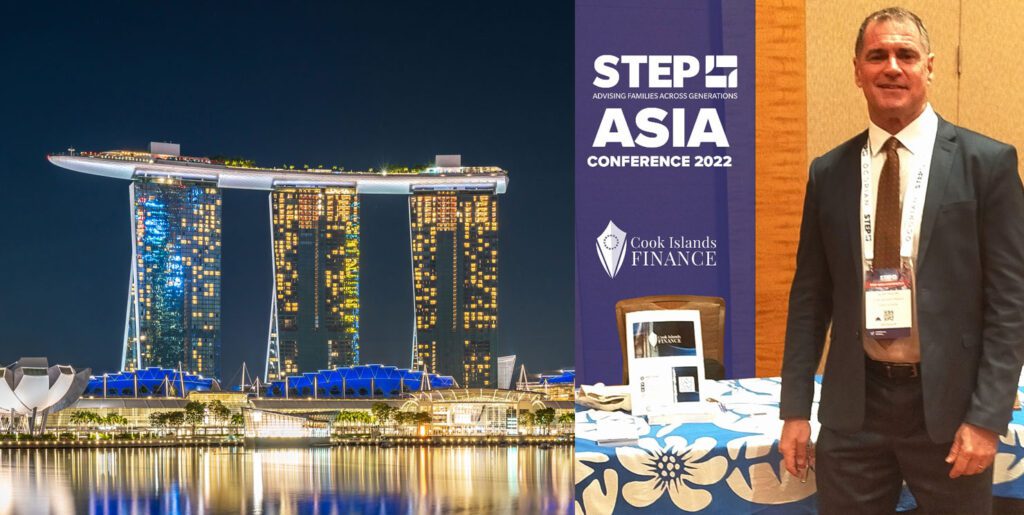 The highlight for CIF was the presentation on "Divorce and trustees – planning ahead is key" where Reuben Tylor, represented CIF and introduced the International Relationship Property Trust (IRPT). The IRPT is a creation of Cook Islands statute, the International Relationship Property Trusts Act 2021, and is a new, innovative tool designed to provide couples in a relationship with more certainty as to how their property is to be managed in the event they separate. Relationship property is to be held for the benefit of a couple and their issue in accordance with the couple's agreement as set out in the trust instrument. This is the first legislation of its kind in the world.
Reuben's presentation and CIF's exhibition table, where the focus was the IRPT, generated much interest in this new planning tool and is the beginning of a comprehensive CIF marketing plan over the next 6-12 months to increase awareness of the IRPT and convert that interest into business for the Cook Islands financial services industry.
For more information on the International Relationship Property Trust download our factsheet here.