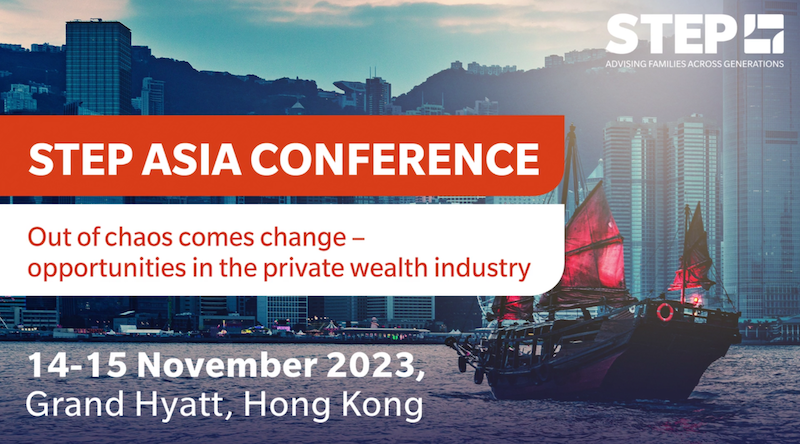 Cook Islands Finance, the government agency responsible for promoting and developing the financial services industry within the Cook Islands, is pleased to announce its role as a Bronze Sponsor for the 2023 STEP Asia Conference. The event will take place on November 14-15, 2023, at the Grand Hyatt in Hong Kong.
The annual STEP Asia Conference draws over 500 trustee and estate planning professionals from around the globe, all of whom are engaged in working with high-net-worth clients. Cook Islands Finance will be in attendance and host an exhibition booth during the 2 day conference.
"Cook Islands Finance's involvement as a Bronze Sponsor highlights our commitment to supporting the global wealth management community, facilitate connections with leading practitioners from across the world, and of course, promote our financial services industry." stated Cook Islands Finance CEO Mr Tony Fe'ao.
"We have a strong connections in the Asia market and our trust companies have been dealing with clients there for many decades. In fact, we have a number of Cook Islanders that cut their teeth in our local offshore industry that are flourishing in financial centres throughout the region."
Fe'ao will be joined at this year's conference by Mrs Nadine Newnham (Managing Director) and Mrs Noovai Aspiris (Legal Counsel), both of Trustees & Fiduciaries (Cook Islands) Limited.
Newnham, who has been involved in the Cook Islands trust industry since 1989, served as the General Manager of a prominent trustee company in Hong Kong for several years, and to this day, maintains valuable industry connections in the region. Mrs Aspiris brings a wealth of experience in corporate fiduciary services from her work at Dimensional Australia, Prestige Group and in the Cook Islands trust industry.
STEP Asia 2023 presents an opportunity for industry professionals to come together, exchange insights, and explore cutting-edge topics that are particularly relevant to the wealth management community. The event is widely recognised as an important fixture in the calendars of wealth managers and estate planners alike in the Asia region and beyond. The conference facilitates in-depth discussions on the latest industry trends, providing a unique platform for networking and knowledge-sharing.
In addition to the conference sessions, participants will also have the opportunity to connect with colleagues and peers through a programme of networking and social events, which promises to further enhance the overall experience.
For further information and registration for the 2023 STEP Asia Conference visit the 2023 STEP Asia home page.